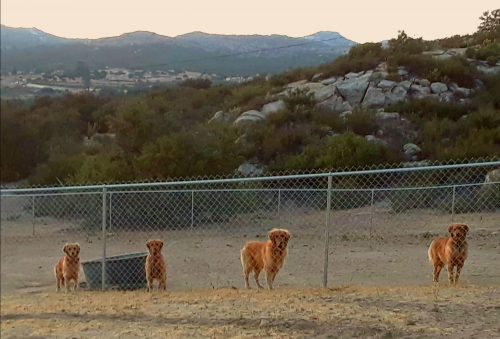 Welcome to Valerie's Retriever Ranch
1590 Kimberly Way
Campo, CA  91906
619 345-1229
     We pride ourselves in raising all of our AKC registered Golden Retrievers here on our Southern California ranch in the mountains of San Diego County.  In this healthy, loving and natural environment, our adult dogs and puppies run freely and thrive.  All of our dogs are healthy, sweet, loving, gentle, and well behaved.   All are fantastic family companion dogs and are very well socialized before they go home.  Families often visit our ranch and feel very safe allowing their children to visit with our dogs, puppies, horses, and barn cats.  Our ranch is a very peaceful environment. Love, consistent training, and patience is what we provide to our animals every day.  Long life, well being, safety, and loving homes is what we strive for when we screen our new homes.
     Several years ago as we began looking for a female to breed to our Harley, we spent endless hours and days researching our best options and making sure that the puppy we would bring home would be healthy, smart, and sweet.  That philosophy continues and we are so happy to share our puppies with families who are looking for a new family member.  We raise all of our dogs from the age of eight weeks old and we do not rush to breed.  We enjoy every stage of life with them and every day with them.  Each one of them has their own personality, likes, and dislikes.  We know our dogs.  Not having to work away from home anymore gives us the opportunity to spend every day with our dogs, horses, and barn cats.  It really is a beautiful life.  
     We also are very proud that we have been able to maintain contact and receive updates about our pups over the years.  The longevity of our puppy relationships is a testament to our commitment to the life of our pups.   Facebook, Instagram, texting, emailing, and other forms of technology have been amazing tools to keep in touch and see how our pups are doing.  This has been even more important as some of our pups are in different States all over the United States.  Every puppy and dog on this site is either our dog or a puppy from our ranch.  
     Please see the guestbook as there are several testimonials from families who have had our pups over the years.  There are several pictures of these families with their pups who live in several states all over the United States.  To name a few are:  California, Arizona, Utah, Oregon, Washington, Texas, Georgia, North Carolina, and Florida.
     Thank you so much for visiting.  Feel free to contact us via this site, our Facebook page, our google business page, Instagram, or a simple phone call.  We welcome visitors by appointment.
Sincerely,
Valerie Russo Cook, M.S.
---
————————————————————————————————————————————————————————-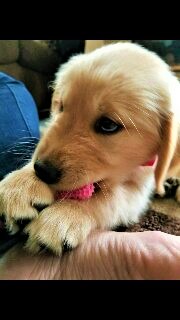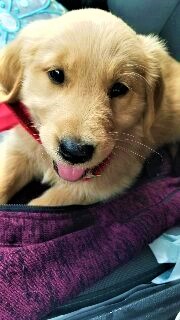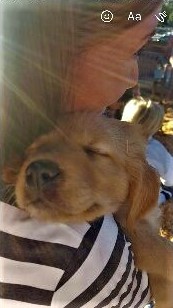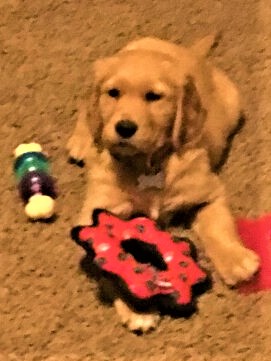 Welcome to Our New site